Elevating Texas with Innovative Architectural Fabric Structures
In the vast expanse of the Lone Star State, where innovation meets practicality, TENSOSHADE Architectural Fabric Structures stands as a pioneer, offering turnkey construction services that redefine the landscape of commercial and agricultural markets. With a steadfast commitment to excellence, TENSOSHADE brings forth a new era of fabric-building expertise that serves Texas from corner to corner, delivering solutions that cater to diverse needs and industries.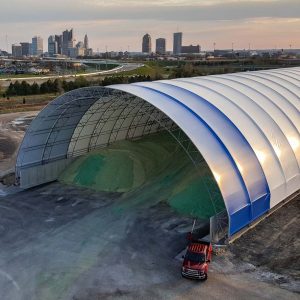 Empowering Commerce and Agriculture
At the heart of TENSOSHADE's mission is the dedication to empowering various sectors with architectural fabric structures that transcend conventional construction norms. Catering to a wide array of markets, including recreation facilities, warehousing, storage, and farm buildings, TENSOSHADE leaves no stone unturned when it comes to offering solutions that optimize functionality and elevate aesthetics.
Britespan: The Epitome of Quality
As an Authorized Reseller and Installer for Britespan fabric buildings, TENSOSHADE introduces a paradigm shift in the realm of pre-engineered fabric structures. Britespan's product line, renowned for its impeccable quality, boasts six distinct building styles that cater to every imaginable customer and project requirement. This commitment to versatility ensures that no matter the vision or purpose, there exists a Britespan fabric building that's ready to make it a reality.
Engineering Excellence Meets Local Codes
When you choose a prefabricated building from Britespan, you're choosing engineering excellence that's aligned with local weather loads and building codes. This strategic approach guarantees that each structure is meticulously designed to withstand the region's unique climatic challenges, ensuring that your investment stands the test of time.
Time: The Ultimate Commodity
In the world of business, time is a precious commodity. Britespan's fabric buildings, constructed in a fraction of the time when compared to conventional steel or metal buildings, provide a significant advantage. The accelerated construction timeline translates to less operating downtime, allowing businesses to resume operations swiftly and, in turn, realize a faster return on investment.
Transforming the Old into the New
TENSOSHADE's commitment to innovation extends beyond new projects. For those who have existing Coverall buildings in need of repair or replacement, TENSOSHADE has a solution that breathes new life into the old. A simple yet transformative process involving a new cover for your old Coverall building can revitalize its appearance and functionality, effectively making it feel like new again.
Texas: Where Expertise Meets Landscape
The state of Texas, characterized by its vast landscapes and diverse industries, requires solutions that cater to its unique demands. TENSOSHADE's expertise not only aligns with the Texas spirit of innovation but also takes into account the specific needs of various regions across the state. From the arid expanses of West Texas to the bustling metropolitan areas of Houston and Dallas, TENSOSHADE's offerings are as varied as the Lone Star State itself.
Conclusion: The TENSOSHADE Promise
In a land where everything is bigger, bolder, and more dynamic, TENSOSHADE Architectural Fabric Structures emerges as a beacon of excellence. With a commitment to quality, a partnership with Britespan's industry-leading products, and a deep understanding of Texas' unique requirements, TENSOSHADE stands ready to transform landscapes, redefine spaces, and elevate industries. From recreation to agriculture, and everything in between, TENSOSHADE's impact resonates as a testament to its dedication to innovation, expertise, and unwavering commitment to serving Texas in its entirety.