Tensoshade™ offers environmentally-friendly shade structures and shade sails systems that combine modern architectural engineering with durable tensile strength materials; perfect for any application especially during the hot summer months to keep us safe (UV protected) and comfortable.
Tensoshade™ offers complete service for every project from the ground up.
Through our vendor alliances network, industry knowledge, and preparation we offer a turn-key product to our customers, architects, designers, contractors, and builders that ranges from initial concept and design through the fabrication, installation, and delivery of your own shade structure, and DO NOT carry cheap imitations.
Our modular structures provide durable and affordable weather protection while our custom structures can provide a striking transformation to any area. We are committed to assisting clients with developing cost-effective projects, built on time and on budget.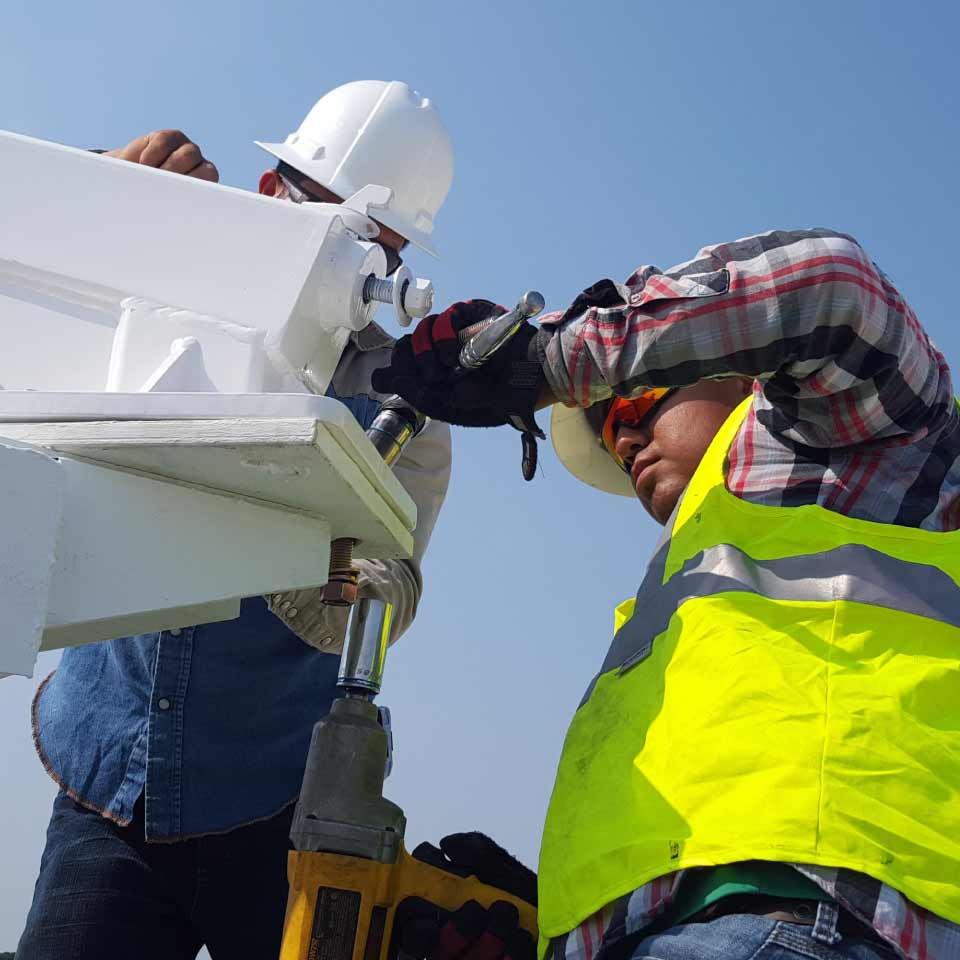 1. Proposal

1. Proposal
A signed Tensoshade proposal and an initial 50% deposit are required to lock in a price quote and begin production. Balance is due upon completion and the structure is ready for its intended use or in other cases prior to shipping.
Due to fluctuations in steel and transportation costs, we reserve the right to adjust prices until they are locked in. Tensoshade will alert buyers to any changes during contract discussions.
All prices quoted are based on the buyer signing Tensoshade's simple 4-page proposal. Buyers requiring review and signature of a complex contract will be charged an additional fee to cover extra administrative costs. As stated in Proposal
TensoShade's lead time for production and installation is typically 4-8 weeks from the time the order (Executed documents) and deposit are received and accepted.  Expedited production and/or installation will have to be requoted accordingly.
2. Pre-Engineered

2. Pre-Engineered
Tensoshade's standard shade structures are designed and pre-engineered for Wind Exposure C, at 90mph (3 second gust) by ASCE 7-05, equivalent to 115mph (ultimate 3 second gust) by ASCE 7-10.
Tensoshade's "Site specific engineering shade structures" are extra strong products as per the local International Building Codes require, therefore are priced accordingly.
Tensoshade's structures are not designed for snow loads and even site-specific engineered structures fabric tops should be removed in advance of possible storm conditions to avoid damage to the fabric.
3. Footing and Foundation
3. Footing and Foundation
Tensoshade's structure are pre-engineered.
Each installation requires a site-specific foundation to be designed by a local licensed Structural Engineer.
Upon request, we can provide NOT FOR CONSTRUCTION Sample Foundation Designs based upon typical Texas soil and weather conditions. It is essential that a Licensed Structural Engineer, design the foundation according to weather conditions and soils Geotechnical report, provided by others.
If Foundations are provided and installed by others rather than Tensoshade's certified installers all warranties will be void.
4. Structure and Finish

4. Structure and Finish
Tensoshade's structures are made from carbon steel pipe and/or structural tubing to achieve an optimal design and strength for years to come.
All our structures come with a standard powder-coating in basic finish.
For corrosive environments, and coastal regions we offer additional primer undercoat as well as galvanization process upon request.
5. Fabric Tops

5. Fabric Tops
Each Tensoshade Structure is manufactured from the highest quality knitted fabric "Commercial 95" shade cloth 340gsm high-density polyethylene (HDPE). Shade cloth fabric is NOT 100% water resistant as it is a breathable woven material. We also offer other shade cloths on different weights and are quoted accordingly.
For tension control, our fabric tops are designed with a slight inward curve towards the center around the entire perimeter called a "Catenary Curve".
From corner to corner, you will notice the carefully stitched or welded seams and highly reinforced corners using multiple layers of shade cloth or membrane sewn with Gore-Tex TENERA thread. Each corner comes with stainless-steel hardware components if requested.
Our PVC membrane material are for customers that require a water-resistant atmosphere along our extra strong structure requiring a site-specific engineering.
The fabric comes in many different colors and has an 8-10-year UV warranty from the fabric manufacturer.
6. Installation
6. Installation
Tensoshade offers a turnkey service standard, and this includes the installation of the complete shade structure kit, footings, structure erection and shade top.
Our shade structures also come with an installation guideline instruction that any contractor familiar with steel erection and general construction techniques should be able to install, but instructions must be followed for an installation that looks right and performs as designed. Proper installation is vital for the appearance, function, longevity, and safety of the installed structure.
If this process is assumed by others rather than Tensoshade's certified installers all warranties will be void.
7. Service + Maintenance

7. Service & Maintenance for Shade Structures
TENSOSHADE is here to assist you with the most comprehensive shade structure maintenance and repair services, under a separate contract.
All structures require some level of maintenance. UV sunlight, Rain, and Wind elements are some of the factors that deteriorate shade structures. TENSOSHADE offers a maintenance program to keep your structure looking great. Not all service issues are due to normal wear, tree limbs, animals, natural and human debris are some of the uncommon and unforeseen hazards we've dealt with and for this you can rely on our team of experts to assist you with the upkeep and repairs.
Rare events such as hurricanes, floods, or any act of God, can cause structural
damage. After assessing your structure, our team will provide a break down inventory of the parts in need of repair or replace to bring it to its original glory. This can even be an opportunity to upgrade your structure!
Services Performed, under a separate contract.
Inspections, Re-tensioning, Repairs, Membrane replacement, Renovations.
Contact the TENSOSHADE Service Department to learn more.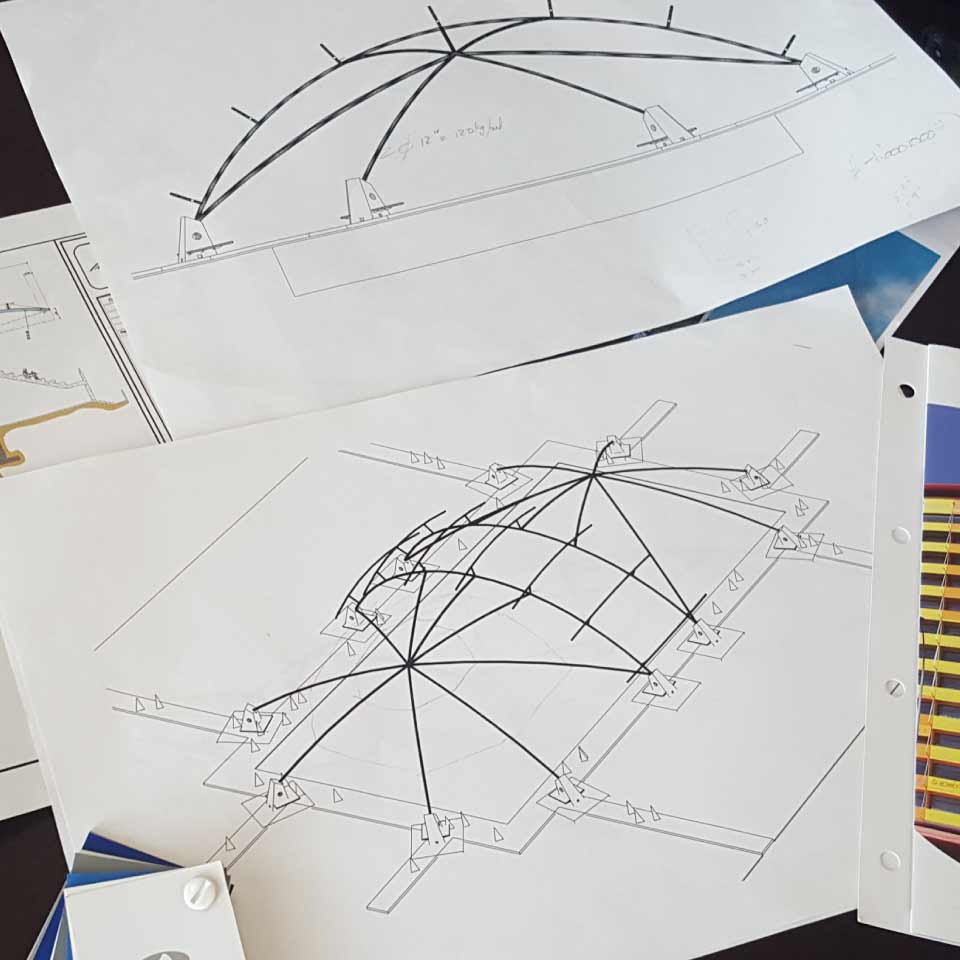 Design and Fabrication
In the design and fabrication of a tensile structure, it is important to consider certain recommendations.
An engineering design of the structure will determine the life expectancy and low cost of your project.
During the fabrication of a premium-grade textile and membrane, it is essential to have the necessary form-finding software knowledge and equipment in order to optimize the good performance and quality of the product.
Our company provides designers, architects, contractors, and builders with membrane solutions. Our knowledge and equipment allow us to meet fast-track schedules and provide the highest production quality.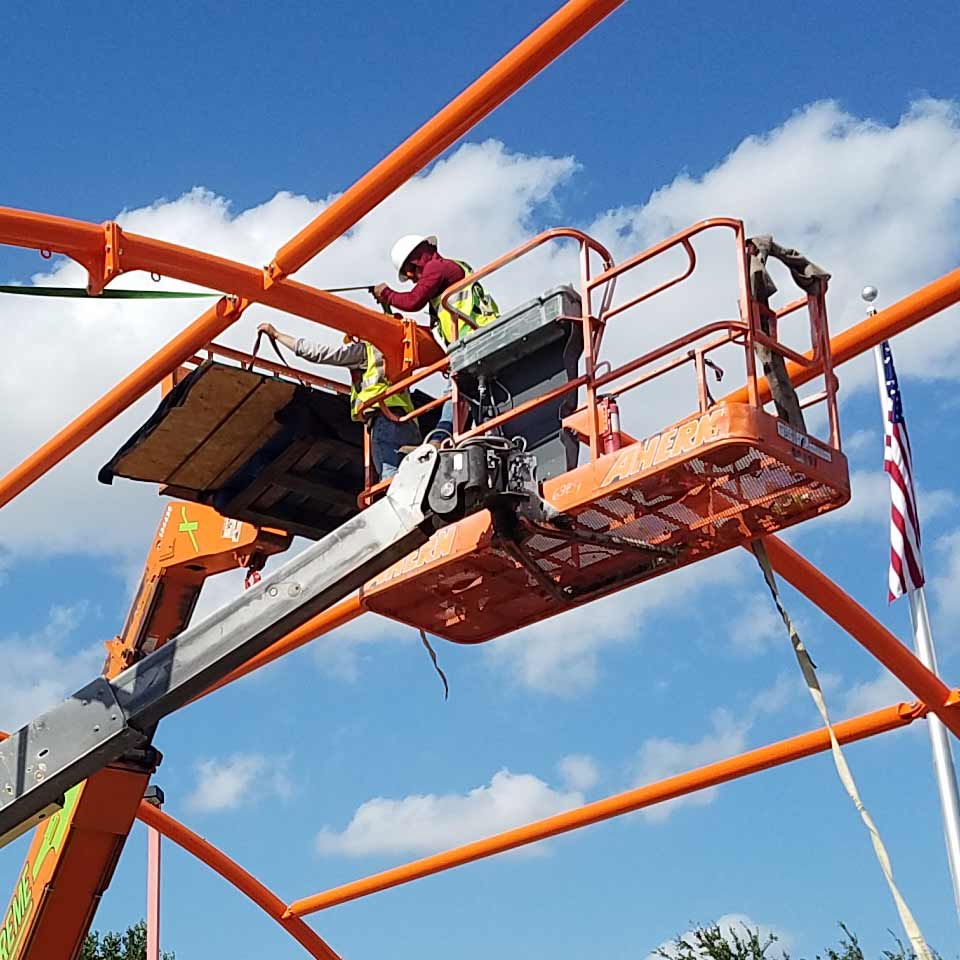 Installation and Construction
As a design-build company, Tensoshade™ offers the necessary expertise thru our vendor alliance network to fully construct and install any type of tensile structure in order to achieve the ultimate results.
Once our team has concluded with the design and fabrication process, our experienced network crew coordinates and successfully installs each structure on schedule.
Because of its lightweight nature, fabric is easily transported and makes it one of the most sustainable and cost-effective building materials.
Engineering
Tensile structures are mainly conformed by a series of elements; the structure, the membrane, the hardware, and the rigging components.
To obtain a high-quality project, it is essential to find a perfect balance between these elements and ensure our structures achieve the performance of each element in order for the loads to be transferred equally and effectively throughout the whole tensile structure.
WIND TUNNEL
Nowadays most National and International Codes require to perform a software wind tunnel study to analyze the different wind pressures that will affect the structure. For medium to large-scale projects, it is very important to detect the sensitive points of the structure by designing a stable and strong project to assure the performance of the membrane extending the longevity of the product.
DETAILS AND CONNECTIONS
Structural details are the main component to take into account during the design of a tensile cover. We recognize that every project is unique and every client is a valued partner. Our structural attention to detail creates and generates engineered aesthetically pleasing connections that have greater performance than typical ones.